New Pokemon Games - The Loop
Play Sound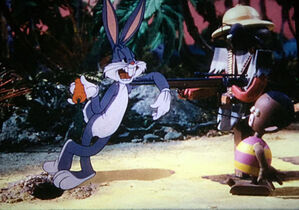 1944 is another year of the Golden Age of Looney Tunes.
Notes
The Color Rings change from red rings black background to red background blue rings starting with "Meatless Flyday". The two cartoons before it were in the 1942-43 season, however, were postponed to release in 1944.
Produced by LEON SCHLESINGER changes to Produced by WARNER BROS. CARTOONS INC. After a short time it changes to A WARNER BROS. CARTOON for the openings only. The closings would still have Produced by WARNER BROS. CARTOONS INC.
The finalized MERRIE MELODIES logo for the big backgrounds at the top debuts in "Meatless Flyday", which would be used for 11 years.
Starting with "Hare Ribbin'", Bugs Bunny's head appears after the WB shield. This variation would have the WB shield zoom in, then WARNER BROS., the copyright notice, the production code and "Present" would fade in. At the same time, the WB shield changes to Bugs' head.
Starting with "The Stupid Cupid", WARNER BROS. adds PICTURES INC. to the bottom of every cartoon until 1964.
All cartoons starting from this year and afterwards would be copyrighted.
Frank Tashlin leaves the studio in September to direct stop-motion puppet films at the John Sutherland studio.[3]
Robert McKimson, who was in Bob Clampett's unit at the time, is promoted to a director and takes over Tashlin's unit.[3]
Bugs Bunny makes a cameo in the Puppetoon "Jasper Goes Hunting" which is the first time a Looney Tunes character appears in a non-Warner Bros. production.
Warner Club News Stories
Shorts Released
Blue Ribbon Reissues
1943 - 1944 Season
1944-1945 Season
People
Deaths
References