Adolph Charles Gamer (May 13, 1899 - June 9, 1964) was an effects animator for Warner Bros.
Early Life
Gamer was born in Chicago, Illinois, to George and Hady Gamer. He also had a brother, Edward (born 1902), and a sister, Haidee (born 1906). Gamer attended the Kemper Military School in Boonville, Missouri and was accepted by the British Air Service at age 17 when World War I broke out. He served in the Royal Flying Corps where he "received his wings." After the war, Ace returned to St. Louis, and for the next eight years worked for a lumber company. He studied art at the Chicago Art Institute, and finally came back to Los Angeles where he studied at Chouinard Art Institute.
Career
Gamer joined Leon Schlesinger Productions in early 1933 where worked as an effects animator. Chuck Jones identified Gamer as an "effects animator and World War I pilot." Gamer was earning $2,280 a year in his position at the Schlesinger studio. Gamer left Warner Bros. in late 1948 and was succeeded by Harry Love.
Later Career
Gamer formed a firm with Murray Youlin known as "Animated Video Film Co." Later, he moved into the insurance business, becoming a Pacific Mutual Life Insurance Company representative in 1950.
Personal Life
Gamer married Jane Weaver (1918-1990) on August 23, 1937, and had one child Peter Paul Gamer (1938-1995) born on December 11, 1938. He died on June 9, 1964 at the age of 65.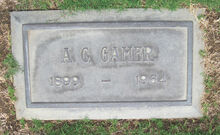 Looney Works
As an Animator
As an Effects Animator
External Links
Community content is available under
CC-BY-SA
unless otherwise noted.