The Mandalorian's Popularity | The Loop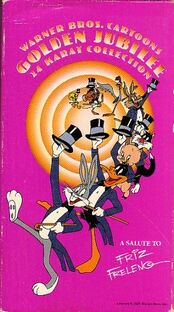 A Salute to Friz Freleng is the eighth release in the Warner Bros. Cartoons Golden Jubilee 24 Karat Collection series of videos. It was originally released in 1985.
Description
"Not many people can claim an active role in animation over seven decades, but Friz Freleng can. He learned his craft working for Walt Disney in the 1920s, then worked on the very first Warner Bros. cartoon in 1930—and supervised some of the latest animation to come from the studio in the 1980s!

If you've ever enjoyed the escapades of Tweety and Sylvester, the fast-paced Speedy Gonzales cartoons, or the running battle between Bugs Bunny and Yosemite Sam, then you've been entertained by the masterful Freleng. Though he's worked with all the Looney Tunes stars, his longest association was with the aforementioned characters—and they helped him win four Academy Awards. (Three Oscar winners are here: Birds Anonymous, a delightful twist on the Tweety and Sylvester formula; Speedy Gonzales, in which the fastest mouse in all of Mexico comes into his own; and Knighty Knight Bugs, with Yosemite Sam donning armor and shield to become the Black Knight.)

Freleng's specialty was the musical cartoon (see Show Biz Bugs), but no matter what the subject, he always seemed to hit the right note. Though his given name is Isadore and his screen billing was usually I. Freleng, he's always been known as Friz—and you can often find products advertising something called "Friz" in the background of his cartoons! Whatever this mystery product might be, it's certainly been the right ingredient for great cartoon entertainment throughout the history of Warner Bros."
Shorts Included
Gallery
Community content is available under
CC-BY-SA
unless otherwise noted.