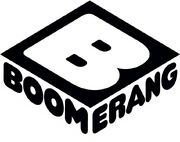 Boomerang is a cable television channel that launched on 1 April 2000 in the United States, so that the classic cartoons airing on Cartoon Network could have a new home. Originally owned by the Turner Broadcasting System, a now defunct subsidiary of WarnerMedia, the channel is part of Warner Bros., following the redistribution of Turner's assets to other subsidiaries within WarnerMedia, the parent company since March 4, 2019.
Initially, it was just to air the Hanna-Barbera shows, such as Top Cat, The Flintstones, The Jetsons, Yogi Bear, and some obscure titles, such as Where's Huddles? and The Roman Holidays, but as Cartoon Network slowly started to abandon airing their theatrical cartoon shorts, this channel added all the theatrical shorts that Cartoon Network once aired. The channel has also aired Baby Looney Tunes, Duck Dodgers and recently The Looney Tunes Show and The Sylvester & Tweety Mysteries. However, many other Looney Tunes-related shows, including Tiny Toon Adventures, Animaniacs, Pinky and the Brain, and The Looney Tunes Show have aired on Boomerang channels overseas. A couple of the anthology shows that aired on Cartoon Network are occasionally rerun as well.
In the United States, this is the only channel where classic Looney Tunes currently rerun due to Cartoon Network officially dropping Looney Tunes reruns in 2017.
Looney Tunes Shows on Boomerang
Boomerang's YouTube channels
Boomerang has four YouTube channels. In the USA, Boomerang Official USA, in the United Kingdom, Boomerang UK, in Central, South America and Mexico Boomerang Latin America, and in France, Boomerang France. The Boomerang UK and Boomerang France channels frequently upload clips of unreleased Wabbit/New Looney Tunes episodes in the USA.
They never upload full length cartoons on their channels.
Boomerang's SVOD
On March 7, 2017, Boomerang announced that it will launch an app that will feature programming from the 5000+ titles from Hanna-Barbera and Warner Bros., as well as exclusive original programming. The app launched on April 11, 2017, and new episodes and contents are planned to be added weekly. Currently, the Boomerang App is only available for subscription in the United States. It is unknown when it will be available internationally The SVOD costs $5 a month and $40 a year and is not affiliated with cable companies. This is an additional fee and no cable provider is required.[1]
Also, the Boomerang SVOD was said to include an offline download-to-go feature,[2], but it unknown how it will work and when it will be officially added.
Gallery
References
Community content is available under
CC-BY-SA
unless otherwise noted.