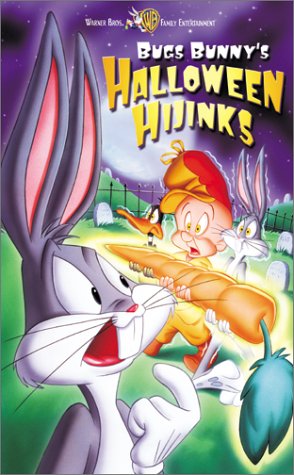 Bugs Bunny's Halloween Hijinks is a compilation of two Looney Tunes TV specials: Bugs Bunny's Creature Features and Bugs Bunny's Howl-oween Special. It was released on VHS.
Description
Master of scare-imonies Bugs Bunny summons up a cauldron-full of Looney Tunes co-stars for this hare-raising video treat, including not one but TWO toon-packed Halloween specials!
The haunting hilarity begins with BUGS BUNNY'S CREATURE FEATURE, as unearthly carrot-pods turn Bugs' adversaries into (yikes!) nice guys, and Daffy Duck takes turns spook-busting and crooning at a truly monstrous nightclub. The gleeful ghoulery continues as BUGS BUNNY'S HOWL-OWEEN SPECIAL finds Bugs and company tangling with the wacky magic of Witch Hazel -- and our Looney Tunes heroes are zapped into a mixed-up menagerie of odd-ball monsters! So get into the spirit as our Halloween hare with scares to spare presents BUGS BUNNY'S HALLOWEEN HIJINKS!
Video
Community content is available under
CC-BY-SA
unless otherwise noted.