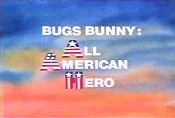 Bugs Bunny: All American Hero
is a
Looney Tunes
special produced and directed by
Friz Freleng
and co-directed by
David Detiege
, that was released on May 4, 1981.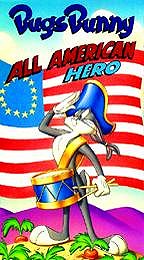 Cartoons Contained
Cast
Mel Blanc as Bugs Bunny, Clyde Rabbit, Yosemite Sam, Porky Pig, Tweety and Sylvester
Credits
"Bugs Bunny: All American Hero"
Voice Characterizations: Mel Blanc
Classic Cartoons
Directed by: Friz Freleng, Gerry Chiniquy
Stories by: John Dunn, Warren Foster, Friz Freleng, Tedd Pierce
Music: Milt Franklyn, Bill Lava, Carl Stalling
Film Editor: Treg Brown
This picture has made the jurdisction of I.A.T.S.E., affiliated with A.F.L.-C.L.O.
© Copyright 1981 Warner Bros., Inc., 1950, 1951, 1953, 1954, The Vitaphone Corporation, 1964 Warner Bros. Pictures, Inc. All Rights Reserved
Layouts by: Bob Givens, Hawley Pratt
Backgrounds by: Paul Julian, Tom O'Loughlin, Irv Wyner
Animation by: Ken Champin, Gerry Chiniquy, Arthur Davis, Lee Halpern, Art Leonardi, Robert Matz, Manuel Perez, Virgil Ross
Bugs Bunny: All American Hero
Producer/Director: Friz Freleng
Co-Director: David Detiege
Story by: Friz Freleng, John Dunn, David Detiege
Layout by: Bob Givens
Backgrounds by: Richard Thomas
Music by: Screenmusic West
Composer: Rob Walsh
Camera: Nick Vasu
Musicians: Ethmer Roten: Flute
Editor: Jim Champin
Associate Producer: Jean H. MacCurdy
Animation by: Charlie Downs, Bill Exter, Terry Lennon, Jane Nordin, Virgil Ross, Sue Sugita, Allen Wade
Executive Producer: Hal Geer
Warner Bros. Television - A Warner Communications Company
Gallery
Community content is available under
CC-BY-SA
unless otherwise noted.