| | |
| --- | --- |
| This article/section is a stub. You can help Looney Tunes Wiki by expanding it. | |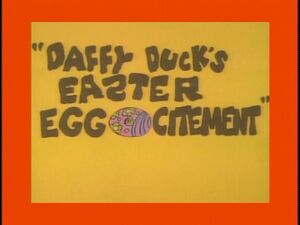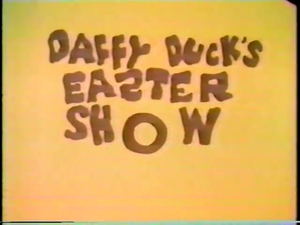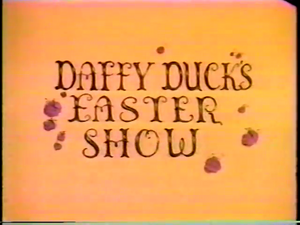 Daffy Duck's Easter EGG-citment, also known as Daffy Duck's Easter Special and Daffy Duck's Easter Show, is a 1980 Looney Tunes Easter special starring Daffy Duck. It was sponsored by McDonald's.
Cartoons
Availability
Notes
This is the second time that Daffy argues with the animator since "Duck Amuck".
Gallery
Cast
Credits
"Daffy Duck's Easter Show"
Written by Friz Freleng, Tony Benedict, John Dunn
Voice Characterizations: Mel Blanc 
Produced by David H. DePatie and Friz Freleng 
Directed by Friz Freleng
Sequence Directors: Tony Benedict, Gerry Chiniquy, Art Davis, David Detiege 
Layout: Martin Strudler, Jesse Santos
Animators: Frank Andrina, Colin Baker, Warren Batchelder, Bob Bemiller, Bob Bransford, Roger Chiasson, Jim Davis, Malcolm Draper, Al Giavoto, John Gibbs, Lee Halpern, Chuck Harvey, Bob Kirk, Bob Matz, Tom Ray, Bob Richardson, Nelson Shin, Art Vitello, Don Williams
Music Composed by Harper MacKay 
In Charge of Production: Lee Gunther 
Production Manager: Kathy Condon 
Film Editor: Robert Gillis 
Music Editor: Joe Siracusa 
Backgrounds: Richard H. Thomas 
Animation Camera: Raymond E. Lee, Robert Mills, Gary Gunther, Steven Wilzbach, Ron Jackson, John Cunningham, Warren Taylor
This picture has made the jurdisction of I.A.T.S.E., affiliated with A.F.L.-C.L.O.
© Copyright 1980 Warner Bros., Inc.
Additional Voice: Nancy Wible 
Executive Producer: Hal Geer
"Daffy Duck's Easter Show"
Produced by: DePatie-Freleng Enterprises, Inc.
In Association With Warner Bros. Inc.
Warner Bros. Television · A Warner Communications Company
Community content is available under
CC-BY-SA
unless otherwise noted.