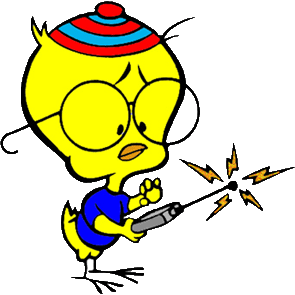 Egghead Jr. or Eggbert is a character featured in Looney Tunes created by Robert McKimson in the 1950s.
Egghead Jr. is a large-headed and very intelligent baby chick and appeared in several shorts with bumptuous Foghorn Leghorn. The only son of Miss Prissy, a spinster hen who inexplicably became a widow in later shorts, Egghead Jr. was bookish and never spoke (though he mumbled when he counted playing hide-and-seek with Foghorn). Foghorn would try to teach him to be a man and play real games like baseball and cowboys and Indians, invariably resulting in bodily injury or humiliation for Foghorn.
Appearances
The classic shorts:
The films:
The Looney Tunes Show episode:
Looney Tunes Cartoons shorts:
Gallery
Community content is available under
CC-BY-SA
unless otherwise noted.