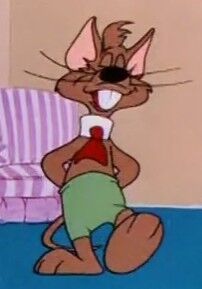 Elmo the Mouse is a mouse who only appeared in "A Hick a Slick and a Chick".
About Elmo
Elmo is a country bumpkin mouse who loves his girlfriend Daisy Lou. He is not very fond of Blackie as he attempts to upstage him to win his girlfriend's affection. He always fails, except in the final attempt, where he gives an ermine coat that is actually from the fur of the cat Blackie to Daisy Lou, who then leaves Blackie for Elmo).
Notes
Elmo's voice sounds a little like Happy Rabbit.
Elmo's personality is somewhat similar to that of Clem the rooster from "The Hick Chick" (1946) by director Tex Avery at rival studio MGM, as both characters are attempting to upstage a city slicker to get his girlfriend back, both get punched a lot by the city slicker, and both get their girlfriend back by the end of the cartoon.
Gallery