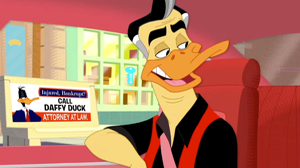 Frank Russo is Tina Russo's father and Zachary's grandfather in The Looney Tunes Show. He is voiced by Dennis Farina.
Description
Frank is a middle-aged yellow duck with black hair on his head, though his temples are graying. He is the father of Tina Russo. He speaks with a Bronx accent.
Biography
Frank only appeared in "Daffy Duck, Esquire". In this episode, Frank comes to town and is excited to meet his daughter's boyfriend, Daffy, who is pretending to be a lawyer to impress him.
Community content is available under
CC-BY-SA
unless otherwise noted.