Frisky Puppy is a character in Looney Tunes, created by Chuck Jones.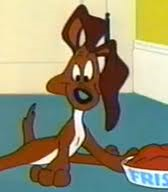 Biography
He appears in three cartoons, opposite Claude Cat, all of which were directed by Chuck Jones.
The character, although physically resembles a younger version of Charlie Dog, however, is not to be confused for Charlie Dog, as both canines are separate characters.
Personality
Frisky Puppy is a playful puppy who often spends his time hysterically barking and scratching. Although not intentionally malicious, his barking often frightens Claude Cat and drives him crazy.
Appearances
See also
Gallery

Community content is available under
CC-BY-SA
unless otherwise noted.