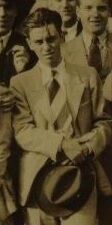 George Cannata (8 July 1908 - 8 February 1978) was an American animator.
Career
Cannata started his career in the 1920s at Pat Sullivan's studio as an inker[1] and later moved to Max Fleischer's studio where he was promoted as a full animator by 1930.He moved to the West Coast, where he worked for Walter Lantz and Ub Iwerks, but returned East to work for Van Beuren during a short period in 1935, after which he left to animate at Paul Terry's studio.
During the early 1940s, Cannata traveled back and forth between different brief stints; he migrated back West to animate for Disney, which he grew to detest, so he trekked East to resume animation for Terry. He left Terry and traveled back West to work for Warner Bros. (credited for at least one title, Frank Tashlin's "Swooner Crooner"). He soon went East to work at Famous Studios, once in 1944 and again in 1950. In addition to his animation career, Cannata also freelanced for The New Yorker in 1954. In the late 1950s, he was an employee of several commercial and industrial film studios such as John Sutherland Productions, Ray Patin and Robert Lawrence Productions. He went into television animation by the late 1960s, where he worked on the Steve Krantz/Ralph Bakshi-produced Spider-Man series in the late 1960s and Pantomime Pictures' Skyhawks and Hot Wheels. In the early 1970s, Cannata moved to Hanna-Barbera as an animator before his death in 1978.[2]
Looney Works
References