Stamped on January 2017. This article or section does not cite any sources. Please add reliable citations to help verify the article's content.
Do not use Wikipedia or any other wikis as a source. Unsourced info can be questioned and may be removed without notice.


Do not remove this template until all conditions have been met.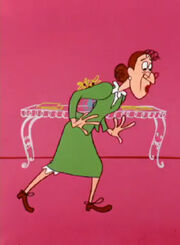 Gertrude is a minor character in the Looney Tunes series. Her only appearance in the Golden Age was "The Hole Idea". She was originally voiced by Bea Benaderet and later Tress MacNeille in The Sylvester & Tweety Mysteries.
Appearances
When Calvin calls his wife into the kitchen, Gertrude is never amused, she constantly complains how her husband treats and ignores her, causing Calvin to ignore her, yet again. Later when, Calvin comes home from work, she chews him out for not treating her right and one of them must leave. In retaliation, Calvin creates one more portable hole and throws it on the floor. Gertrude steps in and falls through it. Calvin notes how deep her fall was. After a few seconds, Satan comes up the portable hole, throws her back to Earth and replies: "Isn't it bad enough down there without her?"
She later appears in an episode of The Sylvester & Tweety Mysteries.
Notes
This was Bea Benaderet's final voice role. After "The Hole Idea", she left permanently, having a few of her roles recast, mainly Granny replaced by June Foray starting with "This Is a Life?"
Quotes
"Portable hole? Hmmmph! You and your silly inventions! Now, you listen to me! I slave to keep a roof over this house, while you waste time with those idiotic ideas of yours! First, it's dry water, and then round squares, and now portable holes?! I'm getting mighty sick of it all! You don't care anything about me! You forget our wedding anniversary! You never say anything nice to me! I'm weary and tired of being a sweet, silent wife to you! And one of these days, mark my words: You're going to regret it! Do you hear me?! You are going to regret it!"
"Well, if you ask me, it's a crime, the way you've been treating me! And if you think I'm going to put up with silly nonsense any longer, you're sadly mistaken! This house is not big enough for the two of us! One of us must go!"