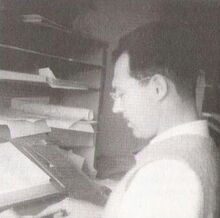 Gil Turner (11 September 1913 - 19 March 1967) was an American artist and animator. He is not related to Lloyd Turner.
Turner worked as an iceman before animating at the Disney Studios in January 1933. He joined Harman-Ising one year later, which evolved into Warner Bros.' animation department.
Around 1948 Turner joined MGM, where he was an animator on Tex Avery's "What Price Fleadom?" and some Barney the Bear shorts. He briefly worked at Walter Lantz on several Woody Woodpecker and Chilly Willy, before joining UPA for a brief time as a director and animator on Mr. Magoo. Turner concluded his animation career at the Hanna-Barbera Studios, where he worked on TV series like The Flintstones and Yogi Bear. He also directed several episodes of Alvin and the Chipmunks for Format Films in the early 1960s before his death in 1967.
Looney Works
Community content is available under
CC-BY-SA
unless otherwise noted.