GTA: The Criminal Enterprises - The Loop
Play Sound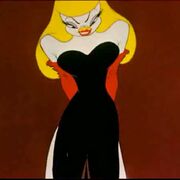 Hatta Mari is a female white pigeon who works for the Nazis as a femme fatale. She only appears in the cartoon "Plane Daffy". Her name is a reference to Mata Hari. She was voiced by Sara Berner.
History
One after another of a company of carrier pigeons fall prey to the seductive wiles of "Queen of the Spies" Hatta Mari. The alarm is raised at pigeon headquarters when Pigeon 13 (a Mortimer Snerd-esque yokel similar to Beaky Buzzard) goes AWOL with the female Nazi spy bird, to whom he reveals all his secrets (after she slipped him a mickey). In shame, Pigeon 13 departs to commit suicide, although after an offscreen gunshot is heard, he briefly returns to note "Duh, I missed."
Later, self-described woman-hater Daffy Duck volunteers for the next mission. Hatta tries to seduce him by hiking up her skirt to reveal her shapely leg and kissing him full on the lips twice. The first kiss electrocutes Daffy and melts him like butter, but the second kiss electrocutes Hatta Mari having the same effect on her. Daffy ultimately resists her charms but swallows his secret message when the temptress corners him. After a frenetic battle, she x-rays Daffy and broadcasts the supposed secret ("Hitler is a stinker") to Hitler himself. Outraged, Hitler declares "That is no military zecret!" Goebbels and Göring concur -- "Ja. Everybody knows That!"—then shoot themselves in the heads after receiving Hitler's angry glare. Daffy then concludes the cartoon by saying "They lose more darn 'Nutzis' that way," and then going into one of his famous bouncing fits shouting "Hoo-hoo! Hoo-hoo!"
After a 47 year-long absence, Hatta Mari would appear again in the Tiny Toon Adventures episode "New Character Day" (in a segment called "The Return of Pluck Twacy") where she appears in Plucky Duck's dream sequence. In the dream, she is depicted as being the physical incarnation of Shirley the Loon's runaway spiritual Aura which has gone rogue and joined a band of criminals. In order to find her and thus reform her lost half, Shirley hires Pluck Twacy to bring back Hatta Mari, but this proves more difficult than anticipated as Hatta has now joined up with the most vicious rogues in town, which include the rogues' galleries of both Pluck Twacy and Duck Twacy, such as Tickle Puss, Boxcars, Pumpkinhead, Hammerhead, Neon Noodle and many more. Hatta herself attempts numerous times to murder Pluck Twacy alongside the other crooks but in the end Pluck is unable to capture her or defeat all the crooks as he wakes up before he can achieve his goal. Notably, Shirley's Aura had appeared in prior episodes outside of Plucky's dream but she always resembled a transparent pink version of Shirley rather than Hatta Mari.
Gallery