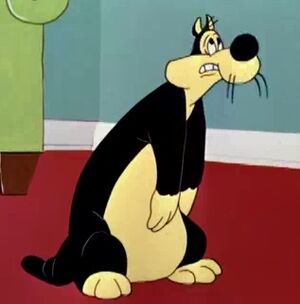 Heathcliff is a Looney Tunes character. He was voiced by Mel Blanc.
About Heathcliff
Heathcliff is a cat who relies on parrot and fellow household pet Louie to help him. He is very dumb. At one point, he forgets how to breathe. He is also very naive, thinking that Louie wants to play with when in actuality he wants to kill him for the inheritance. He is also very strong as he beats up a dog and survives a train that ran him over, with no injuries whatsoever.
Appearances
The classic short:
The film:
Notes
He was planned to be in the Looney Tunes Cartoons short "Happy Birthday Bugs Bunny!"[1]
Quotes
"No more pencils, no more books, no more teacher's dirty looks."
"Well, if I can't take it with me, then I'm not going!"
"Read to me what's on this pretty paper, Louie."
"Duh, what's that for, Louie?"
"Oh, boy! William Tell, William Tell! Duh... Who is he?"
"Duh, that's much better, Louie."
"You was right, Louie. I'm four. I found my birth certificate and it says I'm four."
References
Community content is available under
CC-BY-SA
unless otherwise noted.