| | |
| --- | --- |
| This article/section is a stub. You can help Looney Tunes Wiki by expanding it. | |
I Tawt I Tawt A Puddy Tat
Film information
Genre:
Format:
Directed by:
Matthew O'Callaghan
Produced by:
Spike Brandt
Tony Cervone
Written by:
Matthew O'Callaghan
Starring:
Mel Blanc
June Foray
Music by:
Alan Livingston
Billy May
Warren Foster
Edited by:
Distributed by:
Warner Brothers
Release-date:
November 18th, 2011
Running time:
3 minutes, 50 seconds (3:50)
Budget:
Gross revenue:
[Source]

I Tawt I Taw A Putty Tat is a 2011 CGI-short starring Tweety & Sylvester. It was released alongside Happy Feet II. The production code for the short is 345193.
It features the voices of Mel Blanc and June Foray. Voice archive was taken from Mel Blanc's recordings in Capital Records, specifically that of the song I Tawt I Taw A Putty Tat since Mel died in 1989.
Plot
A series of gags depicting Sylvester attempt to capture Tweety, while they both sing the classic song.
Songs
Gallery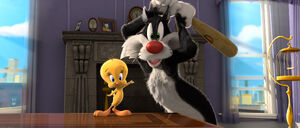 Video