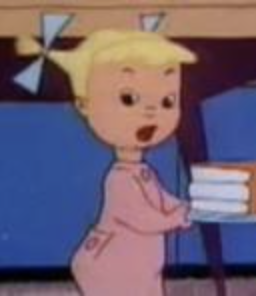 Jennene is a minor character in the Looney Tunes series. She is the daughter of John and Marsha. Her lone appearance is in "Punch Trunk". She was voiced by June Foray.
About Jennene
Jennene is a little girl with blond hair worn in pigtails, each with a blue bow and wears pink footie pajamas.
After Jennene discovers a five-inch elephant, who she names Teeny, in her room's dollhouse, she goes to tell her mother, Marsha. Jennene fails to persuade her initially and is carried back to bed (Jennene shrugs at the viewers as she's being carried away). When Marsha sees that Jennene is out of bed again, she asks where she's going with a slice of cake. Jennene tells her that it's for Teeny. Marsha asks who Teeny is and Jennene repeats that it's the elephant that lives in her dollhouse.
Notes
Jennene would later serve as the inspiration for Cindy-Lou Who, from Chuck Jones's adaptation of How the Grinch Stole Christmas.[citation needed|date=]
Community content is available under
CC-BY-SA
unless otherwise noted.