GTA: The Criminal Enterprises - The Loop
Play Sound
Kent Byron Rogers (31 July 1923 - 9 July 1944) was an American actor and impressionist.
Career
Kent did voice work for the 1941 Merrie Melodies cartoon "Hollywood Steps Out" where he voiced every male celebrity excluding Jerry Colonna, who was voiced by Mel Blanc. His notable voice role was Beaky Buzzard who debuted in the 1942 Bugs Bunny cartoon, "Bugs Bunny Gets the Boid". He also did voice work for several of Tex Avery's cartoons at MGM including "Who Killed Who" and "What's Buzzin' Buzzard".[1] Rogers was also the voice of Walter Lantz's Woody Woodpecker succeeding both Mel Blanc and Danny Webb and he also was the voice of Homer Pigeon who starred in two cartoons. Rogers made an on-screen appearance in the 1941 movie All-American Co-ed, where he played a character named Henry who did impersonations of Gary Cooper and Charlie McCarthy.
Death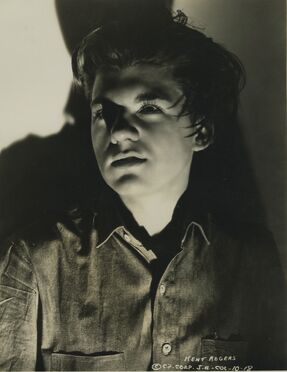 Rogers was an Ensign in the United States Navy during World War II and was tragically killed in an aircraft crash while towing a target during a training flight.[2] At the time of his death, he had just completed voice work for Bob Clampett's "The Bashful Buzzard," which was released a year after he died. Following his death, the characters that he voiced, Beaky Buzzard, Henery Hawk, and Junyer Bear were recast with Mel Blanc voicing the former two and Stan Freberg voicing the latter.
Looney Roles
also see Category:Characters voiced by Kent Rogers and Category:Cartoons with characters voiced by Kent Rogers
References