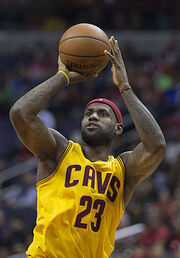 LeBron Raymone James (born December 30, 1984) is an American professional basketball player with the Cleveland Cavaliers of the National Basketball Association (NBA). 
Involvement in "Space Jam 2"
In February 2014, Warner Bros. announced a sequel to Space Jam, set to star LeBron James. Charlie Ebersol will produce through his production company, The Company, with a script by his brother, Willie Ebersol. Jon Berg will executive produce.[1] Representatives of James denied the claim that he would be involved,[2] but rumor has it that it may still be in development.
In May 2014, Lebron was quoted as saying, "I've always loved Space Jam. It was one of my favorite movies growing up. If I have the opportunity, it will be great." Further rumors are that James or Kevin Durant may also star as new Monstars. [3]
Sources
↑ Busch, Anita (February 21, 2014). Ebersols Aboard To Produce And Script Warner Bros' 'Space Jam 2′ As A Starring Vehicle For LeBron James. Deadline. Retrieved on February 21, 2014.
↑ Windhorst, Brian (February 21, 2014). Well it was fun while it lasted. LeBron sources refute Deadline report, there's no Space Jam 2 or Warner Bros. project in works. Twitter. Retrieved on February 22, 2014.
↑ Space Jam 2 Rumors: NBA MVPs Rumored To Clash As LeBron James And Kevin Durant To Star In Sequel! KD To Tune Squad And LBJ To Monstars?. KDrama Stars (May 16, 2014). Retrieved on May 29, 2014.
Community content is available under
CC-BY-SA
unless otherwise noted.