Minor characters in Duck Dodgers:
Commander Z-9
Commander Z-9 was the new general of the Martian armed forces but he plotted to take over Earth and Mars in the two episodes "Of course you know this means war" and he was the main antagonist for those episodes. In his trial he pled guilty and was sent to prison for 200 years.
Agent Roboto
Agent Roboto is a member of the Legion of Duck Doom. He is a robot hence his name. He was voiced by Kevin Michael Richardson who also voiced Antauri on SRMTHFG.
Lezah the Wicked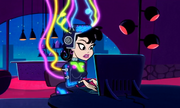 Lezah the Wicked was played by Witch Hazel and is voiced by June Foray.
Counselor Combustion
Counselor Combustion (voiced by Jennifer Hale) is a lawyer who was hired by the Martian to convince that Hungortus should eat Earth. She hates her brother, Flame Valet. She was then moved to Dodgers' side.
Flame Valet
Flame Valet (voiced by Tom Kenny) is a lawyer who was hired by Duck Dodgers to convince that Hungortus should eat Mars. He hates his sister, Counselor Combustion.
Tasmanian Warrior
Tasmanian Warrior was played by Taz and voiced by Jim Cummings. He lives on Planet X. His history is that Duck Dodgers fights a Tasmanian Devil-like life form on the talking planet Masatevo. He appears in the Legion of Duck Doom. 
Community content is available under
CC-BY-SA
unless otherwise noted.