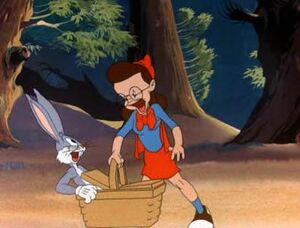 Little Red Riding Hood is a character that has appeared in many Looney Tunes and Merrie Melodies cartoons.
Her design differs in almost every appearance, though the best known version is in "
Little Red Riding Rabbit
", where she is an extremely loud and annoying character. This version later made cameo appearances as one of the basketball watching spectators in the bleachers in the film
Space Jam
. She also appeared in
The Sylvester & Tweety Mysteries
(voiced by 
Tress MacNeille
) in episode 12 "
It's a Plaid, Plaid, Plaid, Plaid World
" as a character called "Myopia", who worked as a waitress at a pub in the town of Fergussie. She used to have perfect 20/20 vision but became nearsighted after being expose to Plaid.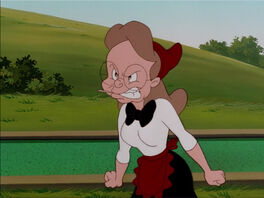 Appearances
Community content is available under
CC-BY-SA
unless otherwise noted.