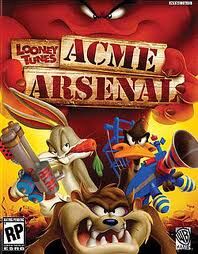 Looney Tunes: Acme Arsenal is a 2007 video game released for the Nintendo Wii, PlayStation 2, and the Xbox 360.
Plot
The Evil Doctor Frankenbeans has built robots of extraordinary power. Doctor Frankenbeans is ready to try to destroy the Looney Tunes by going back in time to destroy their ancestors and he will stop at nothing. It is time for the Looney Tunes to fight back! Arm your Tune with Looney super weapons and suits. Get ready to fight back and go through a Looney adventure. So the question is; are you ready to fight back or not?
Characters
These are the Looney Tunes characters that appear in the game. Videos show that Elmer Fudd and Pepé Le Pew were originally planned to be in the game.
Playable characters
Costumes
These can be unlocked by collecting coins in levels and buying them in cases.
Non-Playable Characters
Bosses
Enemies
Eraser Robot
Giant Eraser Robot
Black Knight Robot
Axeman
Cactus
Ball-like Creature
Wildcat
Mummy Robot
Trophies
Ancestors
Grandpapi Sammy
The Old Devil
Pharoh Bugs
Mervin The Martian
Cornol Foghorn Egghorn
Levels
Dr. Frankenbeans' Castle (1)
Wack-tastic Robot Bash
Plan-Tastic Voyage
Log Ness Monster
Camelot
The Muddy Evil Forest
Escape of Excalibur
Wild West
Prehistoric Tazmania
Pterodactyl Treetop Terror
Volcano Way Out
A Warm Place
Ancient Egypt
Mars
Scooterway Scramble
The Martian Fashion Show
Canyon Chaos
World War 1
The Filthy Half Dozen
All Noisy on the Egg Stern Front
Full Metal Omelet
Wackyland
Dr.Frankenbeans' Castle
Assembly Line Insanity
Roboticus Giganticus……It's Alive
Wile E. Coyote Level
External Links
Community content is available under
CC-BY-SA
unless otherwise noted.