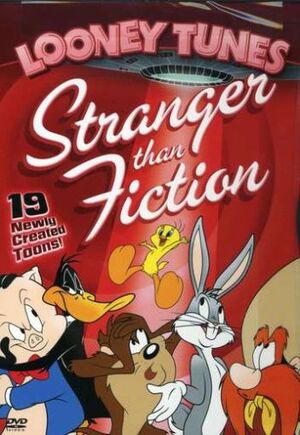 Looney Tunes: Stranger Than Fiction is a 2003 DVD/VHS collection of Webtoons cartoons. It was originally released on October 28, 2003.
Background
It's spooky. It's wacky. It's STRANGER THAN FICTION! Exploding with sheer cartoon craziness, these all-new Toons star your favorite Looney Tunes characters making big-time fun of everything from mysteriously goofy TV shows to sci-fi movie blockbusters! Plus, you'll also be treated to an irresistible assortment of must-see, new-and-improved-deluxe-extra-special Looney Tunes DVD bonus features! In this eerily-entertaining volume: Porky and Yosemite Sam go creature-hunting and end up in a Loch Ness Mess. Daffy hosts a preposterous paranormal TV show featuring everything from the fearsome "Mexican goat-sucker" to crazy crop circles and a Shakespeare-spouting Taz! Then, Porky and Daffy land on the very odd Planet of the Taz - and discover some even stranger sequel-planets! Plus, more way-Looney spoofs and shorts full of weirdly wonderful Warner-riffic fun!
Cartoons Featured
Cast
Community content is available under
CC-BY-SA
unless otherwise noted.