Looney Tunes Cartoons is a revival of the Looney Tunes franchise comprised of one- to six-minute shorts. The series released a ninety-second preview short online on 12 June 2019[1] but made its proper debut 27 May 2020 on the HBO Max Streaming Service.[2][3][4] This is a departure from recent Looney Tunes productions as each short has different artists and visual styles.
Looney Tunes Cartoons became the first Looney Tunes production since Duck Dodgers to be nominated and win an Annie Award for "Outstanding Achievement for Storyboarding in an Animated Television / Broadcast Production."[5]
Development
Sam Register and Peter Browngardt (creator of Uncle Grandpa) are the executive producers for this project.[6] The designs for Looney Tunes Cartoons were previewed in the Warner Bros. Animation logo that was first shown before Teen Titans Go! To the Movies and shown in other Warner Bros. film subsequently.
In 2017, after Browngardt finished Uncle Grandpa, he had a lunch meeting with Audrey Diehl, the creative executive at Warner Bros. She was talking about a project that didn't interest him, so he talked about a project that did. As they wrapped up lunch, Pete said "You know, what I really want to do is to direct a Looney Tunes short." She was surprised that he liked the Looney Tunes and got him with a meeting with Sam Register. Browngardt basically said he wanted to do it like the old 40s cartoons. He then planned his cast, which was immediately set to Bauza, and he was really a fan of Jim Soper's art on Instagram, so he hired him as a character designer.[7]
The 2020 San Diego Comic Con panel on Looney Tunes Cartoons revealed that the production took particular pains to preserve the aesthetic and style of the original Looney Tunes. The supervising producer, Alex Kirwan, mentioned that while everything was created from scratch, some reporters mistook the faithful designs as reused backgrounds from the original. Aaron Spurgeon, the art director, was also noted as having used interior design magazines from the 1940s to help stay true to the old looks.[8]
Episodes released so far include twenty-three Bugs Bunny shorts, fifteen Porky and Daffy shorts, eight Road Runner shorts, six Daffy Duck shorts, six Tweety shorts, three Porky Pig shorts, two Ralph and Sam shorts, two Tasmanian Devil shorts, one Foghorn Leghorn short, one Yosemite Sam short, and one Petunia Pig short, as well as seven Marvin Flag interstitials, seven Hole interstitials, five Telephone Pole interstitials, two Beaky Buzzard Gag interstitials, and one Daffy Psychic interstitial.
Other returning characters include Sylvester, Elmer Fudd, Yosemite Sam, Wile E. Coyote, Beaky Buzzard, Taz, Marvin the Martian, Pepé Le Pew, Granny, Foghorn Leghorn, Cool Cat, Barnyard Dawg, Speedy Gonzales, The Three Bears, Rocky and Mugsy, Cecil Turtle, Gossamer, and many more.[9]
A holiday special Bugs Bunny's 24-Carrot Holiday Special was released 3 December 2020.[10]
The second set of cartoons was released 21 January 2021 but was briefly removed alongside the holiday special due to a mix-up. The second set was reuploaded a few hours later but with a few hiccups. For example, the twelfth episode was double reuploaded. It has since been fixed.
The third set of cartoons was released 29 April 2021.
Shorts
No.
Title
Characters
Director
Original Release
1a
"Curse of the Monkeybird"[11]
Porky Pig, Daffy Duck
Pete Browngardt
31 May 2019[12]
Interstitial
"Marvin Flag"
Marvin the Martian
Kenny Pittenger
27 May 2020
1b
"Harm Wrestling"
Yosemite Sam, Bugs Bunny
David Gemmill
27 May 2020
2a
"Big League Beast"
Bugs Bunny, Gossamer, Mad Scientist
Kenny Pittenger
27 May 2020
Interstitial
"Mini Elmer"
Bugs Bunny, Elmer Fudd
David Gemmill
27 May 2020
2b
"Firehouse Frenzy"
Daffy Duck, Porky Pig
Kenny Pittenger
27 May 2020
3a
"Boo! Appetweet"
Tweety, Sylvester, Granny
Kenny Pittenger
23 May 2020
(Facebook and YouTube)
Interstitial
"Plunger"
Bugs Bunny, Elmer Fudd
David Gemmill
23 May 2020
(Facebook and YouTube)
3b
"Bubble Dum"
Daffy Duck
Kenny Pittenger
23 May 2020
(Facebook and YouTube)
4a
"Pain in the Ice"[13]
Tweety, Sylvester
David Gemmill
27 May 2020
4b
"Tunnel Vision"
Road Runner, Wile E. Coyote
Ryan Kramer
19 May 2020
(YouTube)
4c
"Pool Bunny"
Bugs Bunny, Elmer Fudd
Ryan Kramer
27 May 2020
5a
"Pest Coaster"
Bugs Bunny, Yosemite Sam
Ryan Kramer
5 May 2020
(YouTube)
5b
"Rhino Ya Don't"
Tweety, Sylvester
Ryan Kramer
27 May 2020
6a
"Buzzard School"
Bugs Bunny, Beaky Buzzard
David Gemmill
Michael Ruocco
27 May 2020
Interstitial
"Marvin Flag"
Marvin the Martian
Kenny Pittenger
27 May 2020
6b
"Wet Cement"
Porky Pig, Daffy Duck
David Gemmill
12 May 2020
(YouTube)
7a
"Siberian Sam"
Bugs Bunny, Yosemite Sam
Ryan Kramer
27 May 2020
Interstitial
"Moving Hole"
Bugs Bunny, Elmer Fudd
David Gemmill
27 May 2020
7b
"Fleece & Desist"
Ralph Wolf and Sam Sheepdog
David Gemmill
27 May 2020
Interstitial
"Marvin Flag"
Marvin the Martian
Kenny Pittenger
27 May 2020
8a
"Grilled Rabbit"
Bugs Bunny, Elmer Fudd
Kenny Pittenger
27 May 2020
8b
"Cactus If You Can"
Road Runner, Wile E. Coyote
David Gemmill
27 May 2020
8c
"Shower Shuffle"
Porky Pig, Daffy Duck
Kenny Pittenger
27 May 2020
9a
"Overdue Duck"
Porky Pig, Daffy Duck
Ryan Kramer
27 May 2020
Interstitial
"Bees"
Bugs Bunny, Elmer Fudd
David Gemmill
27 May 2020
9b
"Vincent Van Fudd"
Bugs Bunny, Elmer Fudd
David Gemmill
27 May 2020
10a
"Hare Restoration"
Bugs Bunny, Elmer Fudd
Kenny Pittenger
27 May 2020
10b
"TNT Trouble"[13]
Road Runner, Wile E. Coyote
David Gemmill
27 May 2020
10c
"Plumber's Quack"
Daffy Duck, Elmer Fudd
Ryan Kramer
27 May 2020
11a
"Elf Help"
Daffy Duck, Porky Pig
Peter Browngardt
3 December 2020
Interstitial
"Yuletide Taz"
Tasmanian Devil
David Gemmill
3 December 2020
11b
"Holiday Purrchase"
Tweety, Sylvester, Granny
Kenny Pittenger
3 December 2020
11c
"Ho Ho Go!"
Road Runner, Wile E. Coyote
Ryan Kramer
3 December 2020
11d
"Snow Laughing Matter"
Bugs Bunny, Elmer Fudd
Peter Browngardt
3 December 2020
12a
"Daffuccino"
Daffy Duck, Porky Pig
David Gemmill
21 January 2021
Interstitial
"Moving Hole"
Elmer Fudd, Bugs Bunny
David Gemmill
21 January 2021
12b
"Kitty Livin"
Tweety, Sylvester, Granny
David Gemmill
21 January 2021
13a
"Chain Gangsters"
Bugs Bunny, Rocky and Mugsy
Ryan Kramer
21 January 2021
Interstitial
"Sylvester Car Jack Lift"
Sylvester, Tweety
David Gemmill
21 January 2021
13b
"Falling for It!"
Daffy Duck, Porky Pig
Ryan Kramer
21 January 2021
14a
"Taziator"
Bugs Bunny, Tasmanian Devil
David Gemmill
21 January 2021
Interstitial
"Marvin Flag"
Marvin the Martian
Kenny Pittenger
21 January 2021
14b
"Climate Control"
Road Runner, Wile E. Coyote
Ryan Kramer
21 January 2021
15a
"Lepre Conned"
Bugs Bunny
Kenny Pittenger
21 January 2021
Interstitial
"Flag Won't Stay Straight"
Marvin the Martian
Kenny Pittenger
21 January 2021
15b
"Brave New Home"
Porky Pig
Ryan Kramer
21 January 2021
16a
"The Case of Porky's Pants"
Porky Pig, Daffy Duck
Kenny Pittenger
21 January 2021
16b
"Fully Vetted"
Sylvester, Tweety
Kenny Pittenger
21 January 2021
17a
"Erabbitcator"
Bugs Bunny, Elmer Fudd
Kenny Pittenger
21 January 2021
Interstitial
"Planet Split in Two"
Marvin the Martian
Kenny Pittenger
21 January 2021
17b
"Salesduck"
Elmer Fudd, Daffy Duck
Ryan Kramer
21 January 2021
18a
"Pitcher Porky"
Porky Pig, Daffy Duck, the Gashouse Gorillas
David Gemmill
21 January 2021
Interstial
"Cherry Picker"
Sylvester, Tweety
David Gemmill
21 January 2021
18b
"Duck Duck Boom!"
Daffy Duck, Elmer Fudd
Ryan Kramer
21 January 2021
19a
"Postalgeist"
Daffy Duck, Porky Pig
David Gemmill
26 July 2020
(YouTube)
Interstitial
"Anvil"
Sylvester, Tweety
David Gemmill
21 January 2021
19b
"Fudds Bunny"
Elmer Fudd, Bugs Bunny
Kenny Pittenger
21 January 2021
20a
"Shoe Shine-nanigans"
Elmer Fudd, Daffy Duck
David Gemmill
21 January 2021
20b
"Multiply and Conquer"
Road Runner, Wile E. Coyote
Ryan Kramer
21 January 2021
20c
"Parky Pig"
Porky Pig
David Gemmill
21 January 2021
21a
"Shell Shocked"
Bugs Bunny, Cecil Turtle
Peter Browngardt
21 January 2021
21b
"The Daffy Dentist"
Daffy Duck, Porky Pig
David Gemmill
21 January 2021
22a
"Puma Problems"
Bugs Bunny, Pete Puma
Kenny Pittenger
29 April 2021
Interstitial
"Bowling Ball"
Marvin the Martian
Kenny Pittenger
29 April 2021
22b
"Duplicate Daffy"
Daffy Duck, Porky Pig
Ryan Kramer
29 April 2021
23a
"Key-Tastrophe"
Daffy Duck, Porky Pig
Ryan Kramer
29 April 2021
Interstitial
"

Hammer the Rabbit Hole

"
Bugs Bunny, Elmer Fudd
David Gemmill
29 April 2021
23b
"Devil of a Drink"
Tasmanian Devil
Kenny Pittenger
29 April 2021
24a
"Weaselin' In"
Foghorn Leghorn, Barnyard Dawg
Kenny Pittenger
29 April 2021
24b
"Time Out"
Road Runner, Wile E. Coyote
David Gemmill
29 April 2021
25a
"Bounty Bunny"
Bugs Bunny, Yosemite Sam
Ryan Kramer
29 April 2021
Interstitial
"

Underwear

"
Bugs Bunny, Elmer Fudd
David Gemmill
29 April 2021
25b
"Vender Bender"
Porky Pig, Daffy Duck (minor role)
Kenny Pittenger
29 April 2021
26a
"Mallard Practice"
Daffy Duck, Elmer Fudd
Ryan Kramer
29 April 2021
Interstitial
"

Mouse

"
Beaky Buzzard
David Gemmill

Michael Ruocco

29 April 2021
26b
"Born To Be Wile E."
Road Runner, Wile E. Coyote
David Gemmill
29 April 2021
27a
"Raging Granny"
Tweety, Sylvester, Granny
Ryan Kramer
29 April 2021
Interstitial
"

Famous

"
Daffy Duck, Porky Pig
Ryan Kramer
29 April 2021
27b
"Spare Me"
Daffy Duck, Porky Pig
Ryan Kramer
29 April 2021
28a
"Marv Attacks"
Bugs Bunny, Marvin the Martian
Kenny Pittenger
29 April 2021
28b
"A Wolf in Cheap Clothing"
Ralph Wolf and Sam Sheepdog
David Gemmill
29 April 2021
29a
"High Speed Hare"
Bugs Bunny, The Gremlin
Peter Browngardt
29 April 2021
Interstitial
"

Rattle Snake

"
Beaky Buzzard
David Gemmill

Michael Ruocco

29 April 2021
29b
"Nutty Devil"
Tasmanian Devil
Ryan Kramer
29 April 2021
30a
"Pigture Perfect"
Petunia Pig
David Gemmill
29 April 2021
Interstitial
"Grappling Hook"
Sylvester, Tweety
David Gemmill
29 April 2021
30b
"Swoop de Doo"
Road Runner, Wile E Coyote
David Gemmill
29 April 2021
31a
"A Pane to Wash"
Daffy Duck, Porky Pig
David Gemmill
29 April 2021
Interstitial
"High Wire"
Sylvester, Tweety
David Gemmill
29 April 2021
31b
"Saddle Sore"
Yosemite Sam
Ryan Kramer
29 April 2021
Shorts Yet to Be Packaged
Voice Cast
Gallery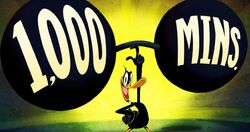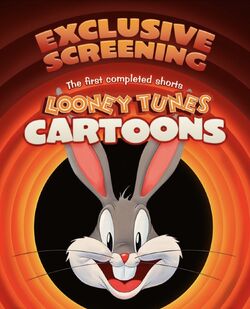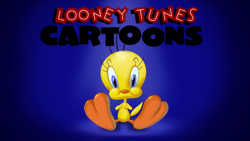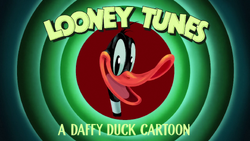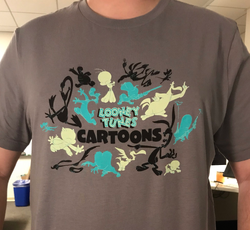 Stills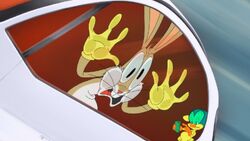 Model Sheets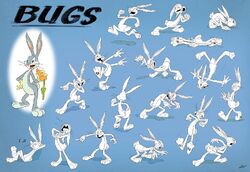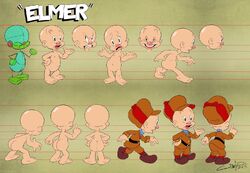 Video
References