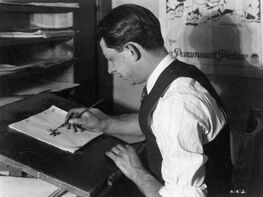 Manny Gould (May 30, 1904 – July 19, 1975) was an American animator and cartoonist from the 1920s to the 1970s.
Career
Gould was employed by the Barré Studio in the early 1920s under the direction of William Nolan. When the studio closed, Nolan went to work for Charles Mintz on the Krazy Kat cartoons, distributed first by Paramount Studios and then Columbia Pictures. Gould and Ben Harrison went with him and later replaced him. Gould and Harrison moved with the Mintz studio to Los Angeles in 1930. Also going with him were his sister Martha Barbara Gould and brothers Louis R., Allen, and Will Gould, a sports cartoonist for the Bronx Home News who drew the syndicated strip Red Barry in the 1930s and became a television and movie screenwriter.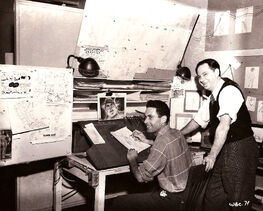 Gould, along with Arthur Davis, Lou Lilly and Frank Tashlin, arrived at the Warner Brothers cartoon studio in 1943 where he worked in the Bob Clampett unit and remained in the unit after Clampett left and Robert McKimson was chosen to direct. His last credited cartoon for Warners was released in 1949.
Looney Works
Later Career
Gould was hired in 1947 by Jerry Fairbanks Productions Productions as a director for its animation department, where Lilly had gone to head the story department. Lilly formed his own commercial animation company in 1952 and by the late 1950s hired Gould to be his animation director.
In 1964, Gould was animating on the Linus The Lionhearted television cartoons for Ed Graham Productions, then the following year began working as an animator at DePatie-Freleng Enterprises on the Pink Panther and Tijuana Toads shorts and several series for television. He also worked on the cartoon features Heavy Traffic and The Nine Lives of Fritz the Cat for Ralph Bakshi.
Death
Gould died of cancer on July 19, 1975.
Community content is available under
CC-BY-SA
unless otherwise noted.