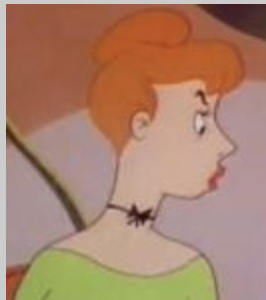 Marsha is a minor character in the Looney Tunes series. She is the mother of Jennene and wife of John. Her sole appearance is in the short "Punch Trunk". She was voiced by Bea Benaderet.
About Marsha
Marsha is originally incredulous about the seemingly impossible and implausible, and seems to be the seeing-is-believing type of person. She is also loving, nurturing, and motherly towards Jennene.
Marsha is a svelte, red-headed, Caucasian woman who wears her hair in a bun on top of her head. She wears a black bowtie with matching high heels and a calf-length, chartreuse circle dress with a cut-out for the shoulders.
She and her daughter, Jennene, are among those who witness an abnormally tiny elephant, who got into Jennene's dollhouse one evening and she named him Teeny. Marsha is relaxing while reading a book and taking a smoke when Jennene enters their apartment's living room to let her know she found Teeny in the dollhouse. She briefly looks at Jennene skeptically, then breaks the fourth wall, turns to the viewers, and in short says, "Too much television", thinking it's just Jennene's imagination running wild. Unconvinced at first, she carries her back to bed, telling her to be a good girl and disregard those unpleasant dreams. When Marsha sees Jennene in the living room a second time, she asks where she's going with a slice of cake. Jennene answers, "It's for Teeny". Her mom asks who Teeny is and Jennene says once again that it's the elephant that lives in her dollhouse. Still not taking her seriously, Marsha brings Jennene back to her room again and checks the dollhouse for herself. When Teeny suddenly appears and trumpets at her, Marsha is dumbfounded. No longer finding this far-fetched, she cries out "John!", before fainting. Her husband rushes to pick her up (now seen with her hair unkempt) and he cries out, "Marsha!"
Notes
Community content is available under
CC-BY-SA
unless otherwise noted.