New Pokemon Games - The Loop
Play Sound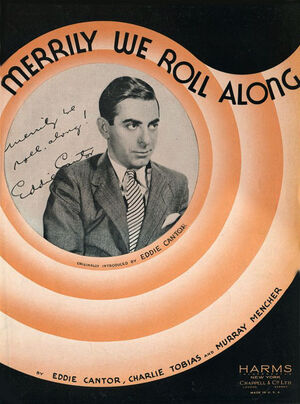 Merrily We Roll Along is a song written by Charlie Tobias, Murray Mencher, and Eddie Cantor in 1935, and used in the Warner Bros cartoon "Billboard Frolics" that same year. It is best known as the theme of Warner Bros.' Merrie Melodies cartoon 'series.
The first cartoon to use the song as its title theme was 1936's "Boulevardier from the Bronx". The series continued to use the tune until 1964, when both the Looney Tunes and Merrie Melodies title sequences were completely revamped following the Warner Bros. Cartoons' closure. The opening theme was now a "clunky" cover of "The Merry-Go-Round Broke Down" by William Lava.
Unlike the Looney Tunes theme song, "The Merry-Go-Round Broke Down", this Merrie Melodies song, to date, has not been sung by any character in the cartoons.
In Gremlins 2: The New Batch, the song plays in the Looney Tunes sequences at the beginning and end of the movie, composed by Jerry Goldsmith. When Daffy interrupts, the song winds down. Later, when Daffy tries to recreate the sequence, the song starts playing again, but stops when the shield overshoots. At the end, the song plays as Daffy says "That's all Folks!"
In Space Jam, the song plays several times. This also happens once in Space Jam A New Legacy, as the camera pans through the Warner Bros. Studios into the Serververse.
In the 1990s, Chuck Jones Film Productions returned to using the song as the opening theme for their Looney Tunes cartoons. The shorts produced by Larry Doyle in 2003 also used the theme.
The theme song is later split in half to be used as the opening and closing music respectively for the Looney Tunes CGI theatrical shorts since 2010, beginning with "Coyote Falls".
In the 1970s it was adopted by WGN as the theme music to The Ray Rayner Show (Ray Rayner used Warner Brothers cartoons on his show) and in 1995 it was used as the ending theme of The Sylvester & Tweety Mysteries. It's also one of the main theme tunes in Looney Tunes Cartoons, and a jazz remix of the song appears in the title cards for the Merrie Melodies music videos in The Looney Tunes Show.
The song shares a title with the 1934 play Merrily We Roll Along by George S. Kaufman and Moss Hart, but is unrelated to it.
The song is used as a fanfare for Warner Bros.' feature animation division Warner Animation Group.