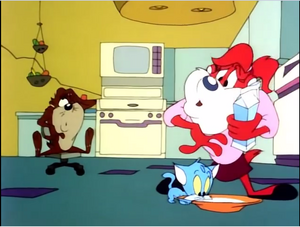 Molly's C​at is a minor character in two episodes of Taz-Mania: Here Kitty, Kitty, Kitty and Here Kitty, Kitty, Kitty Part II.  A picture of him appears on the secretary's desk in Willy Wombat's Last Stand.
Characteristics
He is nice with Molly, but he is cruel to Taz for no given reason at all. In her cluelessness, Molly accuses Taz of being cruel to the cat, even though it is really the cat's fault.
History With Taz
Taz defeated him in the cat's first appearance in the bathroom and the cat disappeared in the bathtub's drain. In his next appearance, he tries to attack Taz again and manipulatively make it look like Taz had been cruel to him. Taz reacts in self-defence against him and defeats him again.
Community content is available under
CC-BY-SA
unless otherwise noted.