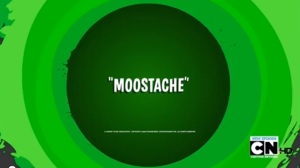 Moostache
is a
Merrie Melodie
song
of
The Looney Tunes Show.
Lyrics
Mustache: Standin' there with a blade in your hand
Yosemite Sam, don't you understand?
I'm your moostache.
Don't shave your moostache.
Been with you since the day you were born.
All that time, I've never been shorn.
What would you do without your flavor saver?
Puttin' aside those crumbs for later?
Very first time that you kissed a girl
I tickled her nose and I rocked her world
Stuck with you through thick and thin
Shavin' me off would be a sin
Chorus: Moostache
Mustache: Your face is my home
Chorus: Moostache
Mustache: I got my own comb.
Chorus: Chorus.
Mustache: Without me, you would be so alone.
Do you remember that time we got caught up in the snowstorm?
I was right there for you, my friend
Keepin' your top lip so warm
I keep tears off of your mouth
Bugs from flyin' up your nose
When you got punched in the mouth
I was cushioning the floor
Put that blade back on the shelf
You know I love you more than anyone else
If you feel some hair just has to go
Weed-wack some of that back hair, bro
Chorus: Moostache
Mustache: I'm your best friend
Chorus: Moostache
Mustache: Until the end
Chorus: Moostache
Notes
Community content is available under
CC-BY-SA
unless otherwise noted.