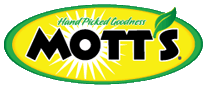 Mott's is a company involved primarily in producing apple-based products, particularly juices and sauces. The company was founded in 1842 by Samuel R. Mott in Bouckville, New York, who made apple cider and vinegar. Mott products were exhibited at Philadelphia's Centennial Exposition in 1876 and Chicago's World's Columbian Exposition in 1893. In 1900 the company merged with the W. B. Duffy Cider Company to become Duffy-Mott. In 1933 the company introduced prune juice.
Eventually, the company was acquired by American Brands (formerly American Tobacco) and became a division of that conglomerate. In 1982, Cadbury Schweppes purchased the Duffy-Mott Company. In early 2006 all of Mott's beverage brands (Hawaiian Punch, IBC Root Beer, Mr and Mrs T Bloody Mary mix, Orangina, and Yoo-hoo) were folded into Cadbury Schweppes Americas Beverages. Mott's continues to operate as a separate unit of Dr Pepper Snapple Group (recently demerged from Cadbury Schweppes plc). In 2008 Marcia Cross was a spokeswoman of Mott's.
In 1999, Mott's sponsored the "Mil-Looney-Um 2000" campaign with a camera.
Gallery
Community content is available under
CC-BY-SA
unless otherwise noted.