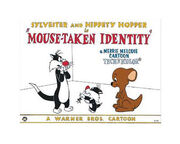 Mouse-Taken Identity is a 1957 Merrie Melodies cartoon.
Plot
Sylvester checks in to work at a museum with his son, Junior. He is bragging about his mouse-catching prowess, when the baby kangaroo, Hippety Hopper, having escaped from the zoo, turns up in the museum. Sylvester and Junior, as usual, mistake Hippety for a giant mouse and chase him around the exhibits, in an attempt to kill him.
Censorship
ABC's The Bugs Bunny & Tweety Show, deleted the scene wherein Sylvester Jr. "rescues" his father from being eaten by a stuffed lion's head by shooting a gun at it and thence into Sylvester's backside. Also deleted was Hippety Hopper in Indian garb and scalping Sylvester.
Nickelodeon edited out the aforementioned lion's head and gun scene.
TV Title Cards
External Link
Community content is available under
CC-BY-SA
unless otherwise noted.