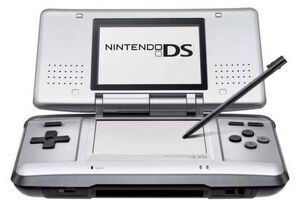 Nintendo DS (ニンテンドーDS Nintendō Dī Esu) is a dual-screen handheld game console developed and released by Nintendo. The device went on sale in North America on November 21, 2004. The DS, short for "Developers' System" or "Dual Screen", introduced distinctive new features to handheld gaming: two LCD screens working in tandem (the bottom one featuring a touchscreen), a built-in microphone, and support for wireless connectivity. DS game data is saved onto the cartridge, not the system. The DS is region-free.
Both screens are encompassed within a clamshell design similar to the Game Boy Advance SP. The DS and DS Lite models are fully backwards compatible with all Game Boy Advance titles, but the DSi and DSiXL are not. As a result, the DSi and DSiXL cannot play DS games that require the Game Boy Advance slot. The Nintendo DS also features the ability for multiple DS consoles to directly interact with each other over local play within a short range without the need to connect to an existing wireless network. Alternatively, they can interact online using the Nintendo Wi-Fi Connection service. The Wi-Fi service was terminated in 2014. The DS was succeeded by the Nintendo 3DS and 2DS systems in 2011. Both have backwards compatibility with the DS and all DS games, except the ones that require the Game Boy Advance slots.
Several of the best selling Nintendo DS games have been released for the Virtual Console for the Wii U only.
DS Family
The DS family includes:
Original DS (2004)
DS Lite (2005; lighter screen, lighter weight)
DSi and DSiXL (2008; online compatibility, no Game Boy Advance compatibility)
The Nintendo DS was a financial success for Nintendo. All DS models combined sold over 100 million units within the first seven years of release.
Looney Games
Looney games for this system include:
References
Community content is available under
CC-BY-SA
unless otherwise noted.