No Time for Christmas is an episode of Taz-Mania directed by Douglas McCarthy. It first aired 25 Dec 1993.
Title
The title is a play on the 1958 film No Time for Sergeants.
Plot
On the day before Christmas, Taz is excited. His mom is busy baking cookies for her club meeting. His sister Molly is busy signing Xmas cards. His brother Jake is busy shaking presents to guess what's inside. His dad is busy setting up the electronic fireplace.
Taz decides to deliver presents to his friends. The Platypus Brothers are too busy to open his gift because they are decorating their house for a contest. Digeri Dingo tosses his gift aside and enlists Taz to dress as Santa Claus and ring a bell to solicit donations. When Bull and Axl Gator sneak by, Taz offers the gift of himself by stepping into one of their snares. Since Taz is still in costume, Axl thinks he's the real Santa and releases him. Taz pummels them, leaves them each a present, and heads off to the hotel.
Mr. Thickley graciously accepts Taz's present, but Bushwhacker Bob makes him get back to work before he can open it. Taz gives Bob a gift too, but Bob asks if that's all. Taz looks around and sees that Bob is standing under the mistletoe so Taz sheepishly gives him a smooch and Bob boots him out the door.
Taz returns home dejected. Dog the Turtle is happy to see Taz, but when Taz gives him his present of a bone, Dog runs off to eat it by himself, and Taz cries himself to sleep by the Xmas tree.
When he wakes, his whole family is there to wish him joy. His friends all come to bring him gifts. Hugh welcomes all Taz's friends, "even the ones that were cut for lack of screen time," and in walk Wendal, Francis, Mum, The Kee-Wee, Constance, Buddy, and a couple of The Bushrats. Everyone begins to slip away as Hugh's speech goes on and on, blah, blah, blah, yackity-schmackity.
Notes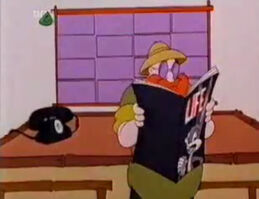 Bugs Bunny makes a cameo on the cover of the Life magazine Bob is reading.
Community content is available under
CC-BY-SA
unless otherwise noted.