The Mandalorian's Popularity | The Loop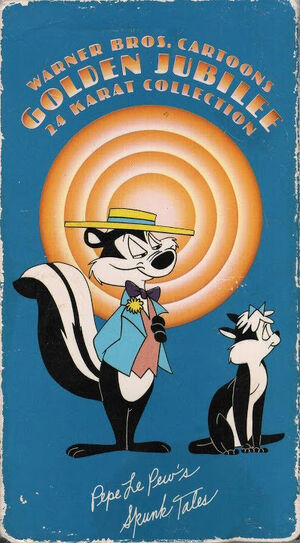 Pepe Le Pew's Skunk Tales is the twelfth release in the Warner Bros. Cartoons Golden Jubilee 24 Karat Collection series of videos. More importantly, this was the final release as the Warner Bros. Cartoons Golden Jubilee 24 Karat Collection came to an end. 
Description
"Toujours l'amour!", might be Pepe Le Pew's official motto. This amorous skunk made his movie debut in the 1945 cartoon "The Odor-able Kitty" and has been pursuing ever-elusive romance ever since.
To understand Pepe Le Pew, one must remember the impact that Charles Boyer had in Hollywood. When this fine French actor appeared as the elegant jewel thief in the movie Algiers (1938), he set women's hearts aflutter and, for years to follow, epitomized the suave, continental lover in most Americans' minds.
It was in that vein that Pepe Le Pew came to life, with Mel Blanc doing a spoof of Boyer's lovemaking voice—and carrying on with comic exaggeration that would have made the real Boyer blush!
Under the direction of cartoon master Chuck Jones, Pepe Le Pew cemented his stardom with an Academy Award, presented for the short subject For Scent-imental Reasons, and it's included in this collection along with such other vintage outings as Past Perfumance (which takes place in a movie studio), Who Scent You? (set on an ocean liner), and "The Cats Bah", which takes its title from the Boyer movie Algiers, which took place in the exotic Casbah.
From the sexy skunk's fractured French to the mistaken-identity dilemma that propels every film (putting a cat in the uncomfortable position of being pursued by Pepe Le Pew), these Skunk Tales are consistently entertaining—and filled with the aroma of laughter.
-Leonard Maltin
Shorts Included
Community content is available under
CC-BY-SA
unless otherwise noted.