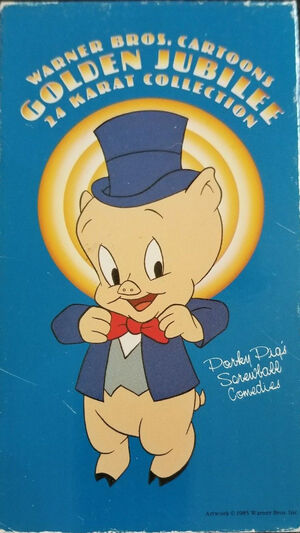 Porky Pig's Screwball Comedies is the third release in the Warner Bros. Cartoons Golden Jubilee 24 Karat Collection series of videos. It was originally released in 1985.
Description
Believe it or not, Porky Pig started out as half of the comedy team Porky and Beans.
But Beans faded into obscurity and Porky Pig stuttered his way to stardom (with the hilarious help of voice man Mel Blanc).The Warner Bros. Cartoons staff soon discovered that Porky Pig wasn't so much an actor as a reactor, so they designed cartoons that paired him with other characters (like Daffy Duck) or put him into situations where he'd respond to the craziness around him (as when he goes in search of the Do-Do Bird).
Porky Pig reached his peak, however, playing himself in "You Ought to Be in Pictures". As a cartoon star under contract to Warner Bros., he's goaded by rival Daffy Duck to ask for more money—and then walk out on his contract to try his luck in feature films. This delightful film combines live-action and animation as Porky Pig goes behind the scenes in Hollywood. It even features real-life Warner cartoon producer Leon Schlesinger!
Whether he's being hounded by Charlie Dog in "Often an Orphan", getting pixified by leprechauns in "Wearing of the Grin", or being pestered by Daffy Duck in "Boobs in the Woods", Porky Pig is never a pig about getting laughs. There are always plenty to go around, which is just one reason why he's one of the most likable characters in all of cartoondom. -Leonard Maltin
Shorts Included
Community content is available under
CC-BY-SA
unless otherwise noted.