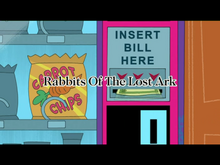 "Rabbits of the Lost Ark" is the first segment of the 32nd episode of New Looney Tunes.
Plot
After Yosemite Sam sees Bugs trying to buy a snack from a machine who rejects his dollar, he forces Bugs to go with him on an Indiana Jones type adventure in some ancient ruins.
Notes
The mummy reappears in Season 2 in the segment "King Nutininkommen".