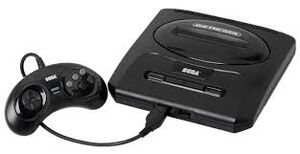 Sega Genesis, known as Mega Drive (Japanese: メガドライブ Hepburn: Mega Doraibu) n most regions outside North America, is a 16-bit video game console which was developed and sold by Sega Enterprises, Ltd. The Genesis is Sega's third console and the successor to the Master System. Sega first released the console as the Mega Drive in Japan in 1988, followed by a North American debut under the Genesis moniker in 1989. In 1990, the console was released as the Mega Drive by Virgin Mastertronic in Europe, by Ozisoft in Australasia, and by Tec Toy in Brazil. In South Korea it was distributed by Samsung and was first known as the Super Gam*Boy and later as the Super Aladdin Boy. The console was positioned as a competitor to the Nintendo Entertainment System and later the Super Nintendo Entertainment System.
Looney Games
Tiny Toon Games
Animaniacs Games
Community content is available under
CC-BY-SA
unless otherwise noted.