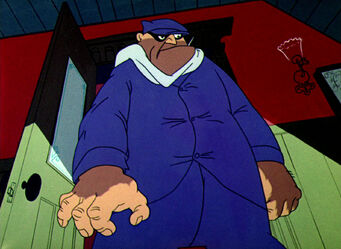 Shropshire Slasher is a Looney Tunes character. He was voiced by Mel Blanc and by Jim Cummings in The Sylvester & Tweety Mysteries.
Description
Shropshire Slasher is a large muscular human male criminal, looking like a stereotypical gangster thug. He first appeared as a villain opposite Daffy (parodying Sherlock Holmes), along with his sidekick Porky (spoofing Watson).
Appearances
Notes
Twin Beaks recorded a song titled "The Shropshire Slasher" on their album Chapter 30.
Gallery