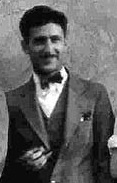 Sidney Marcus (October 14, 1897 - January 31, 1979) was an American director, writer, and animator for animated cartoons. He was also known for working at Screen Gems around the 30s and 40s, as well as the Walter Lantz studio around the 60s and 70s.
Career
Sid Marcus joined Warner Bros. Cartoons after Screen Gems shut down in 1946, and when Lloyd Turner left the animation studio, making him as Arthur Davis' main writer. Marcus would shortly leave after Davis' unit dissolved.
Marcus returned to Warner Bros. Cartoons as a writer in Robert McKimson's unit and would be the co-creator of Tasmanian Devil. He left Warner Bros. again after the shutdown occurred.
His last works in The Looney Tunes and Merrie Melodies shorts would be two written shorts around the 60s that were also directed by Robert McKimson.
Looney Works
Community content is available under
CC-BY-SA
unless otherwise noted.