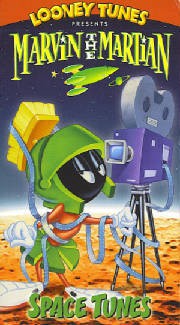 Space Tunes 
is the 2nd VHS release part of the 
Looney Tunes Presents
 series. It was originally released in 1998. It contains 6 cartoons, all based on an outer space theme.
Shorts Included
Notes:
This release was discontinued along with Marvin the Martian & K-9: 50 Years on Earth when a combined release of the two videos was released (titled Space Tunes).
In Europe, this VHS release was released as part of the Stars of Space Jam VHS collection and referred to as "Stars of Space Jam: Space Tunes", with all the shorts having the DUBBED VERSION (C) 1997 WARNER BROS. disclaimer over the original ending cards [1]. It is unknown if Space Tunes would also be included for the European release of the Stars of Space Jam 2018 DVD collection.
References
Community content is available under
CC-BY-SA
unless otherwise noted.