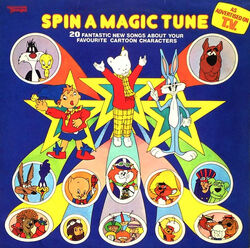 Spin a Magic Tune: 20 Fantastic New Songs About Your Favourite Cartoon Characters is a 1973 UK cartoon LP album featuring original songs about classic well-known cartoon characters, such as those from Looney Tunes, Hanna-Barbera productions and British cartoon characters including Rupert and Noddy.
Credits
Producers: Barry Ainsworth for Marathon Productions, Ltd. Music and Lyrics: Ken Martyne, Mike McNaught. Cover Art: Mick Wells. Running Time: 53 minutes.
Songs About British TV Characters: "I'm Rupert," "Rupert," "Noddy," "My Name is Noddy."
Songs About Hanna-Barbera Characters: "It's the Wolf," "The Hair Bear Bunch," "Dastardly, Dastardly, My Name's Dastardly," "Good Ole Yankee Doodle Pigeon," "Space Kidettes," "Atom Ant," Penelope Pitstop," Scooby Doo," Scooby Doobie Doo," "Motormouse and Autocat."
Songs About Warner Brothers Characters: "Sylvester, Sylvester," "Wile E. Coyote and The Road Runner," "Speedy Gonzales," "Porky Pig," "Come Along Sylvester," "I Love Bugs Bunny."
Track listings
Side 1
I'm Rupert I'm Rupert
It's The Wolf
The Hair Bear Bunch
Rupert
Dastardly Dastardly My Name's Dastardly
Sylvester Sylvester
Good 'Ole Yankee Doodle Pigeon
Space Kidettes
Wile E Coyote And The Road Runner
Speedy Gonzales
Side 2
Noddy
My Name Is Noddy
Atom Ant
Penelope Pitstop
Porky Pig
Scooby Doo
Scooby Doobie Doo
Motor Mouse And Autocat
Come Along Sylvester
I Love Bugs Bunny
Gallery
Video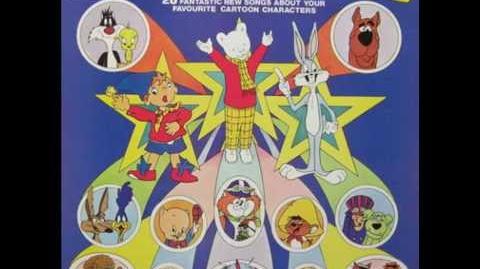 Community content is available under
CC-BY-SA
unless otherwise noted.