Fire Emblem Warriors: Three Hopes - The Loop
Play Sound
Sylvester James Pussycat, Jr, often shortened to "Sylvester Junior" or simply "Junior," is an animated cartoon character. He is the son of Sylvester the Cat. Physically, Junior is basically a miniature version of his father, having a large head in proportion to a small body. Junior has said that he is three and a half years old.
He debuted in the cartoon "Pop 'Im Pop!", directed by Robert McKimson. Joe Alaskey (after Mel Blanc's death) voiced both father and son. Junior possesses a degree of respect for his father, although often, when Sylvester does something embarrassing or humiliating, Junior often displays shamed and/or embarrassment of his father's behavior (sometimes donning a paper bag over his head). Often, Sylvester and Junior's shorts would feature Sylvester trying to capture Hippety Hopper, a baby kangaroo, to prove a point to his son. Each attempt at capture, of course, failed miserably, owing to Sylvester's invariably mistaking the kangaroo for a "giant mouse," and as such being taken completely by surprise by the kangaroo's athletic prowess, with Sylvester losing every fight, often in spectacularly humiliating fashion.
"Tweet Dreams" has been the only pairing of Junior and Tweety in the Looney Tunes shorts, though it was not a direct one, since Junior served as a flashback image.
After the original Looney Tunes shorts, Junior would show up sporadically in later years. In The Sylvester & Tweety Mysteries, Sylvester has a flashback to his childhood in "A Mynah Problem"; in the flashback sequence, as with "Tweet Dreams", Sylvester resembles his son physically.
He also appeared in the 1993 Sega Genesis video game Sylvester and Tweety in Cagey Capers as a sidekick to his father to help him catch Tweety by giving him navigations, in the 1999 Game Boy Color video game Looney Tunes as an enemy to Tweety to help his father to catch him, and in the 2000 Game Boy Color video game Looney Tunes: Marvin Strikes Back!
Quotes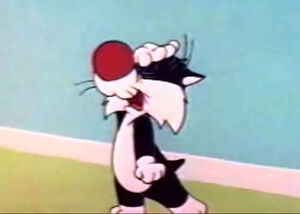 "Thath what maketh me proud of my pop; wherever he goes, he always leaves a good impression."
"Oh, the shame of it. Carrying my father home again, thtiff as a board."
"Oh, father, now you can be my daddy and my mummy, too!"
"I wonder if anyone would be interethted in adopting a fatherleth, little kitten?"
"If ya can't beat 'em, ya might as well join' em!"
Oh now everyone will point at me and say there go's the kid who's father is a liar."
somebody's been eating my porridge and thank goodness it's all gone!"
Yes father what would you wish to know?"
Filmography
The classic shorts:
The Sylvester & Tweety Mysteries episode:
The film:
The Webtoons cartoon:
Gallery
Main article: Sylvester Junior/Gallery
References