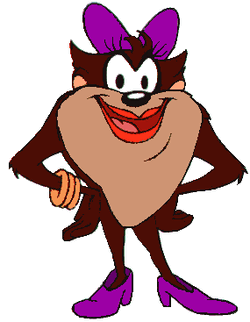 Tasmanian She-Devil is a Looney Tunes character created by Robert McKimson. She has been voiced by Mel Blanc and Brendan Fraser.
Description
The Tasmanian Devil's wife appears infrequently, but when she does it is always with her husband. She holds a strong reign of dominance and superiority over her husband, Most often hitting him on the head with a rolling pin.
History
She-Devil debuted at the end of "Devil May Hare", in which she marries The Tasmanian Devil. In her next appearance, "Bedevilled Rabbit", She-Devil is enraged at Taz for kissing another female of their species, although it is actually Bugs Bunny in disguise. She even appears in the film Looney Tunes: Back in Action where she is disguised as Mr. Smith. She also appears in much merchandising, including stuffed animals and children's coloring books.
Filmography
Community content is available under
CC-BY-SA
unless otherwise noted.