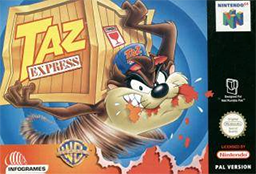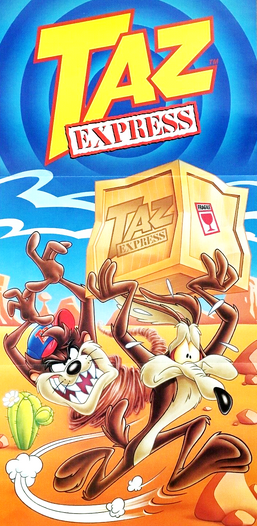 Taz Express is a video game for the Nintendo 64 that was released in 2000 by Infogrames Entertainment, SA.
Plot
Taz? A Delivery Boy? Would you trust THIS guy to deliver your fragile package?
Tired of seeing Taz do nothing but hang around the house and watch TV, She-Devil decides Taz needs to find a job. She finds the perfect one for him - as a delivery boy for the next day courier service, "Taz Express". Your job: Help protect the package long enough to deliver it!
--From the back of the box.
Gameplay
In the game the player controls Taz and must deliver crates to various destinations in the game. The crate must remain intact until it reached it intended destination.
Region Difficulties
Being a PAL format European exclusive it is sought after game for players of other countries, but however a Special play through adaptor is needed to play PAL games on other systems, and this title also has a Special lock out Screen so even if an adaptor is used it, still isn't able to be played, so items like the EMS N64 Passport, still won't work, even with the PAL boot codes.
External links
| | |
| --- | --- |
| This article/section is a stub. You can help Looney Tunes Wiki by expanding it. | |
Community content is available under
CC-BY-SA
unless otherwise noted.