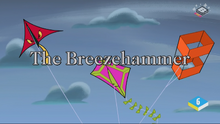 The BreezeHammer is the second segment of the sixteenth Season 2 episode of New Looney Tunes. It premiered in the USA March 18, 2018.
Plot
Bugs' attempts to master a complicated kite maneuver are thwarted when Boyd falls in love with his kite.
Trivia
Running gag: Whenever Bugs says, "The Breezehammer!", thunder and lightning was sounded in the background.
Gallery
Videos