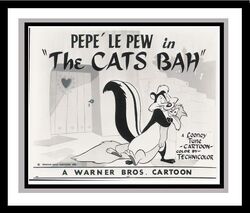 The Cat's Bah is a Looney Tunes short starring Pepe Le Pew. The title is a play on "the cat's meow".
Plot
Penelope is an American tourist who by a mishap has a white stripe of paint down her back. She finds herself being chased by the love-sick Pepe Le Pew in the Casbah, who ends wooing her by doing a rendition of As Time Goes By.
Cast
Cite error: <ref> tags exist, but no <references/> tag was found
Community content is available under
CC-BY-SA
unless otherwise noted.