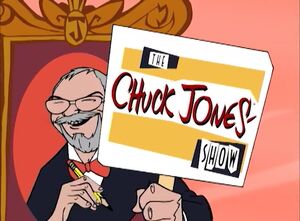 The Chuck Jones Show is an anthology series that aired on Cartoon Network. It premiered Sunday April 8, 2001 at 8:30pm.
Description
The Chuck Jones Show featured cartoons animated or directed by Chuck Jones.
Episodes
Notes
It won an Annie award for Outstanding Achievement in an Animated Special Project for its open/close/packaging.[citation needed|date=]
The director of the opening, Tod Polson, said they originally animated Chuck with a pencil in his left hand. The right-handed Chuck noticed, and they ended up flipping it to his right hand.[1]
The "Stalling-esque" opening and closing themes were composed by Jody Gray.[2]
References
Community content is available under
CC-BY-SA
unless otherwise noted.