GTA: The Criminal Enterprises - The Loop
Play Sound
The Drunk Stork is a recurring Looney Tunes character.
Description
The Drunk Stork's job is to deliver babies. However, he is usually inebriated and delivers the babies to the wrong families. He starts out sober in "Stork Naked", but quickly becomes inebriated after celebrating with the parents after each delivery.
In his very first appearance in Bob Clampett's "Baby Bottleneck", the stork had speech and mannerisms similar to that of Jimmy Durante; this has been dropped when Friz Freleng took over the character in subsequent appearances beginning with "A Mouse Divided".
"Pappy's Puppy" unusually depicts the stork completely sober and never drunk at all throughout the entire cartoon and delivers babies to the right parents, which is a complete subversion of the Drunk Stork's usual appearances. It is the only short to depict him this way, where he appears only twice; he first appears in the beginning, delivering a newborn puppy to Butch J. Bulldog. He later reappears at the end of this cartoon, delivering more puppy bulldogs to Butch J. Bulldog's family (much to Sylvester's disgust).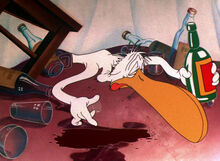 Appearances