This article features Looney Tunes media that has yet to be released around the world.
All questionable information in this article must be backed up by a reliable source. Any information that is not backed up by citations may be reverted without notice.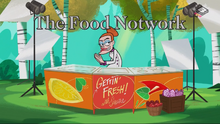 The Food Notwork is the second segment of the fifteenth Season 2 episode of New Looney Tunes.
Plot
Bugs sabotages Ivana's cooking show after she steals carrots from his garden.
Notes
Bugs' "My Freshness" ego returns in this short.
The episode title is a parody of the television channel Food Network.
Videos